Klan Lord Diaz of the Darkest Suns, together with the other 7 Klan Lords is on the second line of command under the Emperor himself.
Such an important character should be modelled of course, and below is my attempt to do this. I've used the picture of Diaz as he appears in the Kommander's Manual. He appears to be wearing a light yellow armour which would possibly be an indicator of his rank. Utilising the Darket suns miniature with the two forward facing hand weapons, I carefully removed the left arm. This gave me more access to the head which I removed with a craft knife.Utilising an old head from a Necromunda Goliath I removed the Mohawk hairdo and pared the head smooth. I then attached this to the Torso. I coated the model with Dark moon yellow and using Hawk Turquoise picked out the insignia colours on his suit. I primed the head white and then when dry coated over a lick of Bronzed Flesh. Again when dry I used Flesh Wash to bring out the features. For his hair I simply painted the tight hair plaits on the skull, as I did not trust myself to run a hot needle over the skull to give raised plaits. The left arm was then attended to. I used the arm from the Dark Haired Klan Warrior which I superglued into place making sure the Klecta did not foul the Purger. A change of shield decal and a coat of Bad Moon yellow on the arm and the model was nearly complete. I always apply a thinned coat of polyurethane varnish to most of the models I paint as it makes them more durable I feel.Below is the result of my effort.
Hengist 10:19, 21 July 2009 (UTC)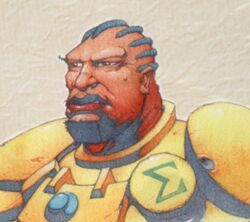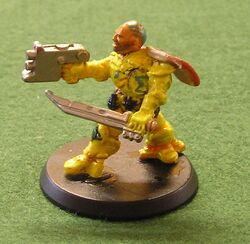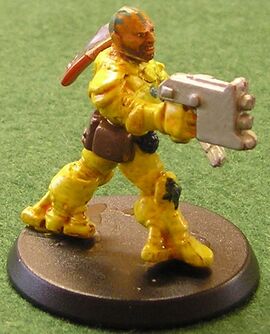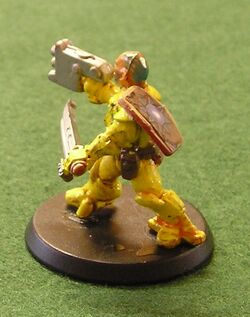 Community content is available under
CC-BY-SA
unless otherwise noted.