Nexus Assault Troops are the "Heavy Weapons" of the Nexus Rebellion. These smart Troops were not issued in great quantities, certainly in my area.
In all I have 6 of them and realised very early on that a few more were needed if fighting at other than Brigade strength. Again EM4 make a set of Troopers which are uncannily like Nexus Assault Troops. They have helmets, shoulder pads and trouser pockets, knee protectors etc. These can be utilised and with a compatible paint job can look virtually indistinguishable from Assault Troops. The EM4 Troopers come in a basic set (SFP1) for £2.50 at the time of writing for 5 plastic Troopers. A Heavy weapon metal conversion kit is available seperately at £2.00,which gives you 5 Weapons complete with both arms and 5 metal front bodies, but if bought with the basic Trooper package costs just £3.95 for the set which is referenced as SFP5 (Troopers -Heavy Weapons). After Assembly with Superglue I primed the Troopers in white, base coated a mix of Fortress Grey and Chaos Black to give a dark grey and then painted the pockets with a mix of Enchanted Blue and Blood Red which gives a midnight blue effect and then drybrushed this randomly over the figures using an original Assault Trooper as a guide.The Weapons were given a coat of Tentacle Pink, cooled off with a little Enchanted Blue and metalised with Mithril Silver, this gives a finish similar to the finish on the original Weapons.Finally a lick of Red Gore was brushed on to highlight the Helmet, Shoulder Pads and Knee Protectors. The figures were finished by mounting them on 30mm bases.
So don't pay a fortune for the originals, I don't. Just look about and see what you can utilise -you'll be surprised at what's out there!
Hengist 10:29, 21 July 2009 (UTC)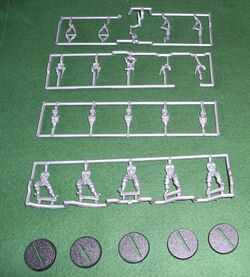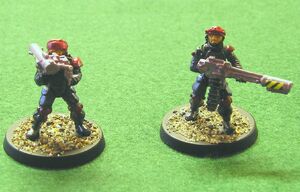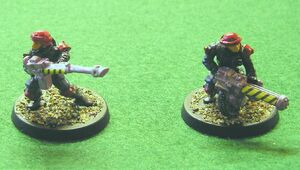 Community content is available under
CC-BY-SA
unless otherwise noted.