Nexus Troopers are quite literally the bedrock of any Nexus attack. Cheap, expendable and hopefully numerous. But not everybody has more than enough.
Again the Basic EM4 Trooper miniatures SFP1 can give you an additional 5 for a mere £2.50!! There is a metal command conversion kit for £2.00 or again £3.95 if ordered with the basic Troopers - re-referenced as SFP6.This allows much more flexibility for the model's poses, which again I think individualises your army. I coated the Troopers with a mix of Enchanted Blue and Blood Red, Drybrushing in Spacewolves Grey (The old type-not the new type) which is the delicate shade of blue that identify the troopers. Alternatively use Enchanted Blue with a little Skull White.In order to fix the insignia base, I used a round, off an old sprue and superglued it to the model. To impart realism I saved a couple of insignia decals and placed them on the base. Shown below is the result of a bit of effort.
Hengist 10:30, 21 July 2009 (UTC)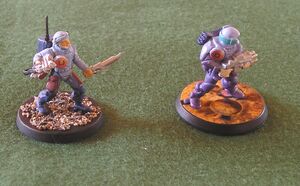 Community content is available under
CC-BY-SA
unless otherwise noted.