The original Havok range was made up of Karn Empire and Nexus Rebellion units with a handful of Preteravore Prime Genus units as well. Its not know if there would have been further expansions as the company folded before the original range was fully released.

Most units were sold in packs of 3 and the Doomguard, Stormtroopers and Glaive Riders were only available in the vehicle box sets making them difficult to build units of. The Darkest Suns, 47th Line Troopers and Battleforms for both major races were included in the main box game The Skirmish Battleset and so tend to turn up more often. It is widely believed that the Karn Heavy Weapons, Pteravore Screamers and Hell Hounds were part of the final release and never made it to the shelves before the company went bust. Pictures exist in various magazines and adverts and some display models are rumoured to exist in collections. On the 23/02/2009 one of the Karn heavy weapons troopers was seen on eBay in a mixed auction. The model was the heavy slugger armed model.
Printed Media
Edit
A series of 8 promotional Havok pullouts were given away with 2000AD during Winter 1996/97. The pullouts comprised of six 4 page comics giving some background on the units featured and two 16 page magazines giving a greater overview of the game, stories and product lists.
Issue
Unit Featured
Type of pullout
#1021
10 Dec
#1022
17 Dec
Nexus Troopers
4 Page colour pullout
#1023
30th Dec
Karn Darkest Suns
4 Page colour pullout
#1024
7th Jan
Pteravore Razor
4 Page colour pullout
#1026
21st Jan
Emergence of the Karn
16 Page colour pullout
#1028
4th Feb
Karn Suma-Kai
4 Page colour pullout
#1032
4th Mar
Karn Klan Warriors
4 Page colour pullout
#1036
1st April
Manbelbrod - The First Victory
16 Page colour pullout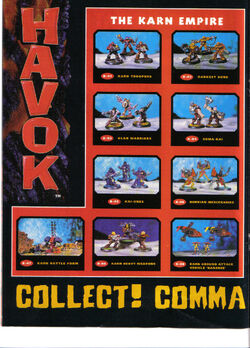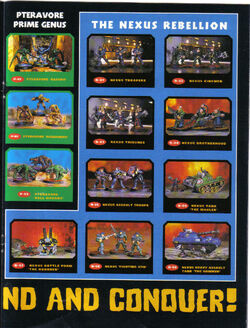 Community content is available under
CC-BY-SA
unless otherwise noted.